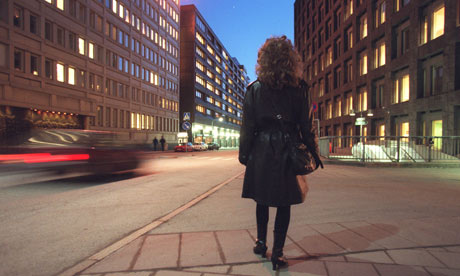 A new report backs the effectiveness of an 11-year-old Swedish law that criminalises those who pay for or attempt to pay for sex.
Photograph: Suvad Mrkonjic/Scanpix/PA Photos

SWEDEN -- It is rare to have academic consensus on controversial areas of study, but currently in the UK it seems that the vast majority of academics studying prostitution and the sex industry are in agreement. It is almost impossible to find even a handful involved in this massively expanding area of study that will deviate from the opinion that the sex industry should be legalised or decriminalised, and that penalising sex buyers has a negative effect on those selling sexual services. Most academic studies produced in the past few years conclude that little harm is caused to those involved in prostitution, despite the thousands of testimonies on record of survivors of this abusive trade.

Today, Förbud mot köp av sexuell tjänst: en utvärdering 1999-2008 (Prohibition of the Purchase of a Sexual Service: an Evaluation 1999-2008), a report on the evaluation of the 11-year-old Swedish law that criminalises those who pay for or attempt to pay for sex, is released, and its conclusion is that the legislation has been overwhelmingly positive for all (except the pimps, traffickers and punters, of course). I hope it will put paid to the scores of assertions bandied about during the past decade that the law has been detrimental to those in prostitution as well as to wider society.

In a letter to a newspaper dated January 2006, Belinda Brooks-Gordon, reader in psychology and social policy at Birkbeck and an enthusiastic lobbyist for a repeal of all prostitution laws, wrote in response to the Home Office's 2004 green paper on prostitution, Paying the Price: "The government's idiosyncratic attention to the evidence base neglects the vast body of research, which shows that Sweden's policy of criminalising buyers of commercial sex is not progressive but rather that it is retrogressive, dangerous, unworkable and expensive …"