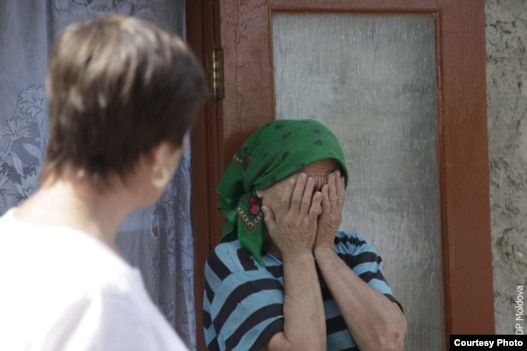 A
woman weeps at a center for reabilitating victims of domestic violence in Moldova.
MOLDOVA - Moldova's women remain prime targets for human trafficking and exploitation, and it will take more than just improving Moldova's economy to save them.
Both the blight and the profits of human trafficking in Moldova can be felt everywhere in the small country. Children left in the care of ailing grandparents or abandoned to appalling orphanages in Chisinau represent part of the toll trafficking has taken on families in Moldova. The ostentatious new homes at the edges of poor villages and young men driving luxury cars purchased with foreign remittances illustrate the irresistible lure of the trade.
Trafficking represents more than just the selling of human bodies. It is a painfully clear indication of a government's failure to protect its citizens, to provide basic necessities, and to insure civil rights. Moldova, the poorest country in Europe, bears the scars of poor governance, geopolitical tugs-of-war, and internal ethnic struggles.
But it is Moldova's women who are suffering the most in these struggles. If trafficking is to be abated, if Moldova is to get back on its feet economically and politically, and if civil society and democracy are to be strengthened, Moldova needs to pay attention to the rights and democratic responsibilities of women...