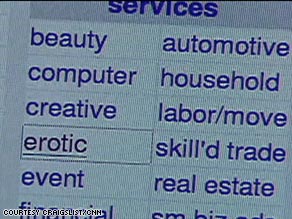 SACRAMENTO, CALIFORNIA
-- For more than two years, undercover cops on the Sacramento Police Department's vice squad have been working one of the most draining beats: trying to crack down on online child prostitution.
Police have nabbed nearly 70 girls under the age of 18 since 2005. Most of the girls were released to foster or group homes. Those are just the official figures; investigators think there are many more child prostitutes out there.
It is no easy task.
"We're asking these girls to do a big thing ... which is to stop what they're doing," said Sgt. Pam Seyffert of the Sacramento Police Department. "Stop what's working for them. Surviving is basically what they're doing."
Sacramento police are working with the FBI as part of a nationwide campaign to combat underage prostitution called Innocence Lost. The goal of the program, which is now in almost 30 U.S. cities, is to decriminalize the girls and concentrate on catching the pimps who control them.
"It really makes me angry," Seyffert said. "I think everybody on the team has different reactions to it, but I just flat out get really angry that some guy thinks he can take this girl and basically deprive her of her freedom."...
READ THE FULL ARTICLE AND WATCH A VIDEO AT CNN.com