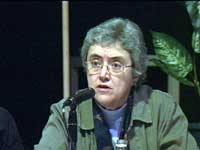 GLASGOW, SCOTLAND -- Young men in Scotland must be targeted in the fight against prostitution, according to a leading American feminist.
Janice Raymond (left), an executive director of the Coalition Against Trafficking in Women, wants schoolboys to be educated about prostitution in an attempt to shape male attitudes towards pornography and sexual exploitation from an early age.
She said: "Young men are more aware of the issues, including prostitution and exploitation, and we need them to engage with our work.
"Men are part of the problem, not prostitution on its own."
Ms Raymond was speaking in Glasgow on Saturday night at the awards ceremony for Zero Tolerance, the anti-domestic violence charity, where she collected the International Woman Award...
READ THE FULL ARTICLE AT TheHerald.co.uk